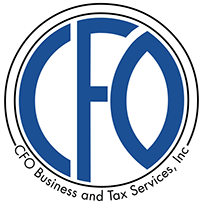 Welcome to CFO Business & Tax Services, Inc!
We're your choice for personal and professional tax, accounting* and consulting services. At CFO Business and Tax Services, Inc., we understand the issues your company faces and through our continuing education and high quality client services are equipped to help you and your business grow and prosper!
Making your business grow takes more than just hard work and looking at financial statements. Many business owners want to see their financial statements each month in order to know whether they turned a profit or not, so they can go back to running the day to day operations of their company. That's where we step in. We can analyze your financial statements to help you discover what the true health of your business is at any given time. We can also use your historical data to forecast trends and help you strategize based on projected income and spending.
Having an Enrolled Agent at your disposal helps you from both a personal and business perspective. The level of tax expertise required to become an Enrolled Agent and maintain that status translates into comprehensive tax planning for you and your company. Let us help you keep more of your hard earned money by effective tax planning and preparation!
We would be happy to help you with your Quickbooks® questions. We are a Certified Quickbooks ProAdvisor® and can not only help you with your setup, training and input for that software, but we also have the ability to pass on valuable discounts to our clients for the Intuit line of products.
Please take the time to look through our website and get to know us and what we offer a little better!
Direction
Our experts are no strangers to these waters. Allow us to help you navigate complex issues without worry.
Stability
Our firm is here when you need us most. We are your trusted partner.
Results
We are a results-driven firm and work hard every day to save our clients time and money.